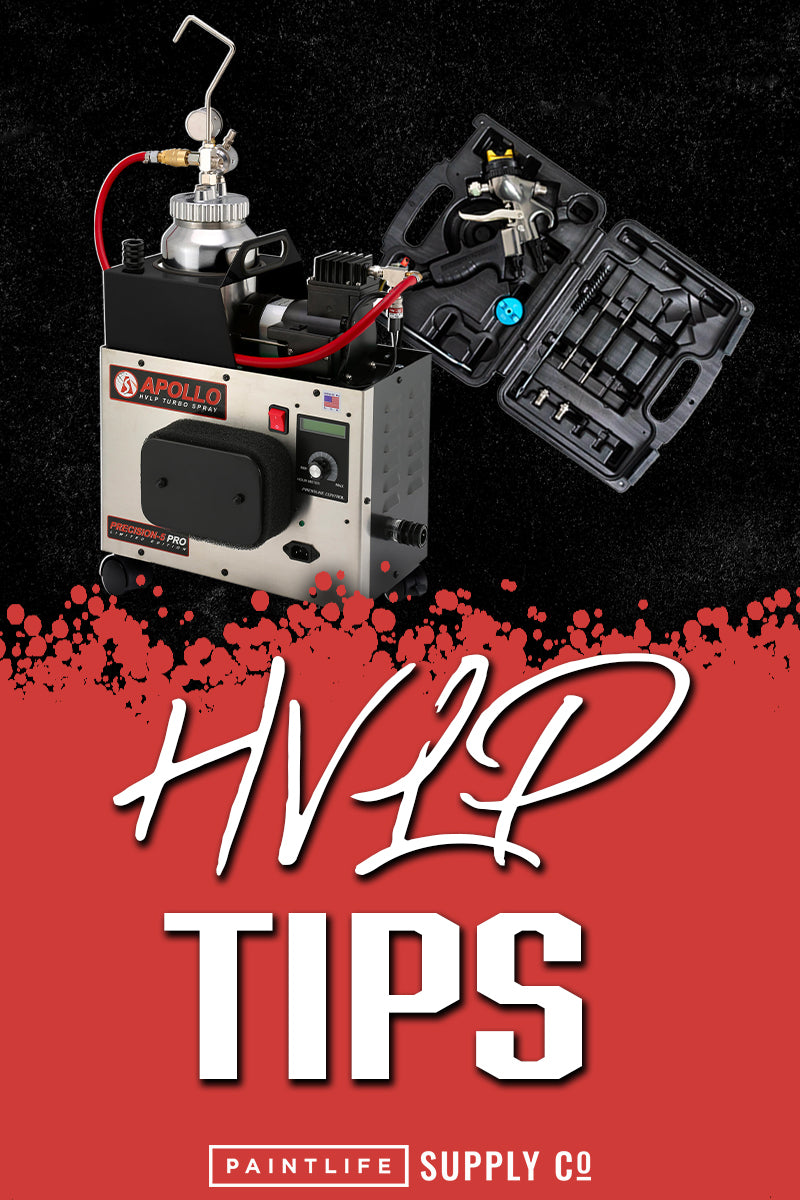 Apollo HVLP Tips
A question I've been asked a lot recently is: What is my go to sprayer for painting kitchen cabinets and cabinet doors?  Well, a variety of factors will influence what you should be using. Every situation is unique, but here I'll try to simplify the options and give you my recommendation. In the past, I've used two different options - one is an airless paint sprayer and the other is an HVLP (High Volume/Low Pressure) paint sprayer. 
For years, my go-to airless sprayers were the Titan 440 and TriTech T4. Those are simple to set up and get decent results. But, once I was introduced to HVLP paint sprayers like the Titan Capspray 115, I quickly learned that there were many benefits an HVLP offers over a traditional airless paint sprayer. Product transfer and overspray dust were the major deciding reasons for my conversion from airless to HVLP. 
Airless spraying quickly becomes the more expensive option when using 2K polyurethane coatings. Once catalyzed, you're losing a significant amount of coating due to low transfer rates. HVLP sprayers offer significantly better transfer rates of product to substrate. Once this became clear to me, I began to experiment with the HVLP sprayer options out there and discovered the Apollo Precision 5 Pro LE with a remote pot setup. 
This Apollo Pro LE HVLP system is the Maserati of HVLP paint sprayers. One of the first things you'll notice is how sleek and polished it is! It comes with the award-winning 7700 Atomizer HVLP spray gun which looks like a work of art in and of itself.  This is easily the best HVLP paint sprayer I've ever used.
This sprayer has the ability to control the pressure with a control knob that gives precise pressure at the gun. This simple feature is a game changer when it comes to painting cabinets.  Controlling pressure at the gun resolves many problems like paint product transfer and paint overspray.
Another cool feature of this sprayer is that it shuts down around 3 seconds after releasing the 7700 Atomizer gun trigger. After the shut down, the Apollo Precision 5 Pro LE has an internal fan that continues to cool the HVLP paint sprayer down. All sprayers, whether HVLP or airless, have internal electrical components that wear faster when  exposed to heat.  Every paint sprayer has a circuit board that is susceptible to heat. HVLP sprayers get extremely hot by nature and cooling the unit down as fast as possible will extend the life of the sprayer.  I have used some HVLP sprayers that you can literally cook an egg on.  The internal fan running on this Apollo HVLP paint sprayer will last longer compared to any other HVLP sprayer on the market. 
The Apollo Pro LE remote pot setup is another game changer. It has a pump attached to the unit that feeds 30' of paint line to your Atomizer gun. This remote pot feature means you have a gun attached to the hoses that supply air and product or paint material. Your coating is in an Apollo 2 quart pot sitting on the HVLP sprayer. This makes it easier for you to spray without a cumbersome pot attached to you while spraying, or a quart cup attached to the gun.  Typically, a heavy pot will be attached to your belt which weighs on you over time with other HVLP sprayers like the Titan Capspray system.
Another feature that is very beneficial is LCD message center. Here you can get a digital readout of the accurate pressure, and other messages including filter and temperature warnings. The Apollo Pro LE is the only sprayer that affords me this unique feature. I typically like spraying my 2K polyurethane coatings at 4.5 PSI. With this HVLP sprayer, being able to see the accurate pressure, I can dial everything in perfectly for each spraying situation. You'll be able to more easily take notes and recreate the same results every time you spray the same coating. This will make your setup fast and more efficient - and you'll get consistent results! 
This HVLP paint sprayer has a blow-off tool with a quick release attachment to the sprayer. One more thing that adds to the polished look of this HVLP unit! Being able to quickly release your spray gun and attach a blow-off tool that can clean and clear your project from dust and debris is a feature that saves time and makes you project site more efficient.
Well, you might be asking, what about paint overspray? It's not a matter of wet overspray, but silica dust and dry overspray dust that scares many professional painters who are searching for a faster option over brushing and rolling. Paint overspray is a huge issue that can affect your jobsite in many negative ways, so it's important to find a paint sprayer option with a high transfer rate of coating to substrate. As the cost of coatings increases, it's important to choose a sprayer that transfers more paint than is transferred to the ground. 
When spraying the edges of cabinet doors, airless sprayers create a large amount of dry silica dust and wet overspray. With a lower product transfer rate, the amount is increased and there is more to clean up. The more clean up you have, the lower your margins will be on a jobsite, and the more it will slow you and your team down. The 7700 Atomizer gun can significantly lower pressures to atomize your coatings resolves these frustrating issues.
The Apollo Precision 5 Pro LE is more than my go-to for cabinet painting with expensive coatings. It is also my go-to for wrought iron fence painting.
When it comes to spraying wrought iron fences, the Apollo Pro Precision 5 Pro LE will pay for itself in 2-3 jobs. I created an experiment to spray two similar fences and put an HVLP and airless sprayer to the test. The savings in product not lost in overspray was astonishing -  in one job alone, we could have almost paid for the Apollo Precision 5 Pro LE sprayer just by savings in product alone! With the airless sprayer, I used 17 gallons of product compared to only 3 gallons with an HVLP paint sprayer. Doing the math with the average cost of the product, the amount saved was $938. 
An HVLP sprayer can be dialed down to just cover ½" iron pickets, whereas an airless sprayer can only be dialed into a flat 2-4" inch fan - that's one of the biggest factors that results in a significant loss of product in overspray. The Apollo Atomizer gun can even be dialed in to draw a line like a pencil!
As a professional painter, we are always looking for ways to streamline our painting process and to make our painting processes faster and more efficient. Apollo fits right into our plan to obtain these goals!  I have personally come to know the owner of Apollo and have had the opportunity to learn who John Darroch is and what his company stands for. Apollo is truly a company that is For Painters by Painters. John truly cares for everyone who chooses to use his product and cares just as much for his employees. Apollo is a family owned and operated company that offers amazing customer services along with products that will make your job faster, more efficient, and in the end more profitable.  
ABOUT APOLLO SPRAYERS INTERNATIONAL, INC.
Since 1966, Apollo Sprayers has specialized in the manufacturing of high-quality, technologically advanced High Volume/Low Pressure (HVLP) industrial spray equipment for primary and secondary industrial/commercial finishing applications and the quality-oriented home workshop. 
A family-owned and operated company through three generations, Apollo focuses all its efforts on HVLP turbo spray systems to make them the most advanced and high-performance systems on the market. Apollo customers experience the easiest to use, highest transfer efficiency, and most consistent finish results of any HVLP spray system in the world! Proudly Made in the USA, Apollo ships its comprehensive line of HVLP Multi-Stage Turbines, Spray Guns, and Complete Systems to a rapidly growing and loyal global network of valued customers. 
Apollo's state-of-the-art factory in Vista, California (USA) manufactures precision engineered and technologically advanced HVLP products, such as the 2017 AWFS Visionary Award-Winning PRECISION-6, utilizing the latest techniques and quality-control procedures. In addition, Apollo spray equipment is designed to meet or exceed the toughest air quality standards in the world, such as California's South Coast Air Quality Management District (SCAQMD). Apollo was able to demonstrate to the SCAQMD, through its own independent laboratory testing, how Apollo's HVLP technology exceeded the established standards with certified 80% - 90% transfer efficiency that translates to a 40% - 50% savings on coating consumption. 
Apollo's ongoing commitment to research and development ensures their customers that all Apollo products utilize the newest, most efficient, and easiest-to-use HVLP technology. Apollo customers also benefit from the many long-term employees who have worked with Apollo for 17 years or more to provide superior customer service, technical support, and long-term stability.