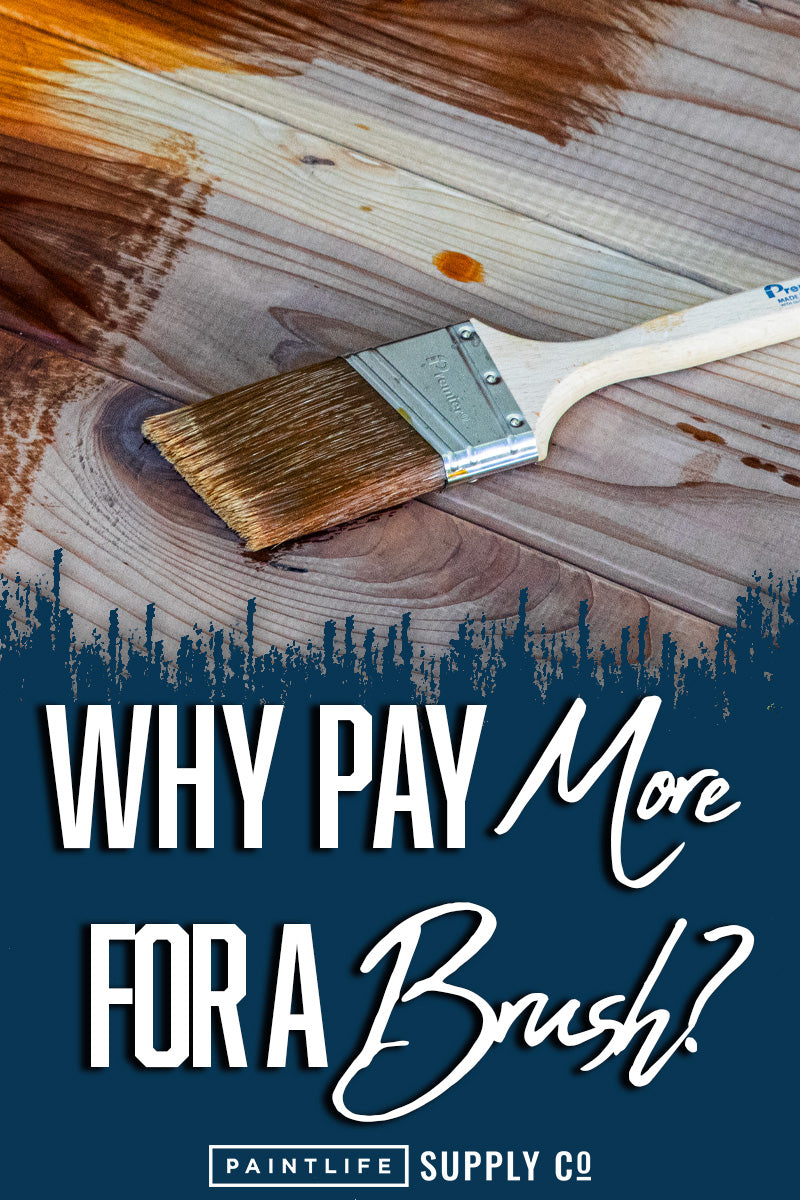 Why Pay More?
Not all paint brushes are created equal and when it comes to paint brushes in general, you get what you pay for.  Paint brushes come in all shapes and sizes.  The size and shape of a paint brush is mostly personal preference.  Do you like a beaver tail handle or a rat tail handle.  Do you like a wide ferrel with more filament or a thinner one with less filaments?  It is partly related to what you are painting but within the choices of size and shape there is a wide variety of quality.
The quality of the filaments is probably the most important aspect of getting the right brush for the job.  High quality paint brush filaments like Tynex, Orel, and Chinex are simply the best filaments in the world for professional painters.  Dupont manufactures these filaments and the trademarked names are Dupont's patented versions of Polyester and Nylon with Chinex being  filament in a class of its own.  There are three main reasons why you should pay more for a paint brush.
Dupont filaments last longer, clean up easier, and keep their stiffness and shape longer under use.  Dupont filaments are simply made to last.  In the United States this is not as much of a benefit cause we are more disposable and have a tendency to use paint brushes for about 3 months on average then dispose of them or dispose of them daily due to stringent environmental regulations regarding cleaning of your painting tools.  It other parts of the world like Europe it is not unheard of for a professional painter to have a brush for 20 years.  If you keep your brushes for 3 years or more Dupont filaments will benefit you.
A filament does actually wear down in size with use.  There are brushes in Europe like Stalmiester brush that have a string that unwind and the filament wears.  There is brushes that have a lifetime warranty like the Lucas Pro.  Even if you are tossing your brushes in 3 months quality matters.  Low quality brushes will last weeks and only days in some cases.  Dupont filament clean up faster and easier.
Chinex filaments are a smooth filament that clean fast and easy.  With today's paints that dry extremely fast and the chemicals that aide in that process paint dries and builds up on the brush filament quick making the brushes a bare to clean.  If you are not one of those painters that cleans your brushes every hour it is easy to ruin a paint brush in one day.  Dupont's smooth filaments do not allow paint to adhere but rather clean off with warm soapy water fast and easy.  Chinex filaments are the best for exterior painting.
Dupont filaments keep their stiffness longer.  A stiff brush is the best option if you want to get perfect ceiling lines when hand cutting in.  If you will be painting ceiling lines for hours you will notice your brush get softer over time.  If you are one of those painters who periodically cleans your brush throughout the day you will also notice the brush is was softer after cleaning.  The reason this happens is the filament is absorbing water which in turns makes it softer.  Dupont filaments have shown to absorb significantly less water over time than any polyester or nylon.  
These 3 qualities are just a few reasons you want to pay more for a paint brush.  Over the years I have heard thousands of people say they just hate painting.  My guess that it is because they are attempting to do a job with tools not made to help them succeed.  Quality tools will make painting faster, more efficient, and what is most important Fun.  Low quality tools and specifically paint brush with cause you to drip paint, paint crooked lines, get frustrated cleaning, leave heavy brush strokes, spend time picking filaments off your surface you are painting to name a few.  A few extra dollars goes a long way.  As a DIYer, you should only have to buy a few paint brushes in your lifetime.  Here are a few recommendations.
For interior painting my personal favorite is an all around paint brush good for cutting in, brushing walls, and works well for exterior painting.  The Premier Brooke Is a Tynex Orel blended brush that works well for all paints and stains.  Premier Pro lineup of brushes are all handmade in New York with a handle quality better than any of brush company I have tried.  If you are strictly painting interior trim or cabinets and using a low or medium viscosity paint the Premier Hampton is the best option.  The Hampton is a Tynex only brush that is soft and will give you glass like results with the right paint.  If you are working outside there is nothing better for exterior paints than the Premier Riverdale.  A 100% Chinex brush will with the abuse of rough surfaces, lack of proper cleaning, heat, hold up to harsh chemicals in exterior paints and cleans up fast at the end of the day.  Premier will not break the bank but will make you a better professional painter and a happier DIY painter.  Give them a try.
 Who Is Premier Brush & Roller Company?
Premier Paint Roller Co LLC is a family-owned and operated business that has been manufacturing paint rollers, paint brushes, and related accessories for over 50 years. The company is headquartered in Richmond Hill, New York, and it has a manufacturing facility in nearby Medford, New York. Premier Paint Roller Co LLC is a major supplier of paint rollers and brushes to both the professional and consumer markets. The company's products are available at major retailers, hardware stores, and paint stores throughout the United States.
Premier Paint Roller Co LLC is committed to providing high-quality products and excellent customer service. The company's products are manufactured with the latest technology and materials, and they are backed by a strong warranty. Premier Paint Roller Co LLC also offers a wide range of customer service options, including a toll-free hotline, a live chat feature, and a comprehensive website.
If you are looking for high-quality paint rollers, brushes, or accessories, Premier Paint Roller Co LLC is a great option. The company offers a wide range of products to choose from, and its products are backed by a strong warranty. Premier Paint Roller Co LLC also offers excellent customer service, so you can be sure that you are getting the best possible service.