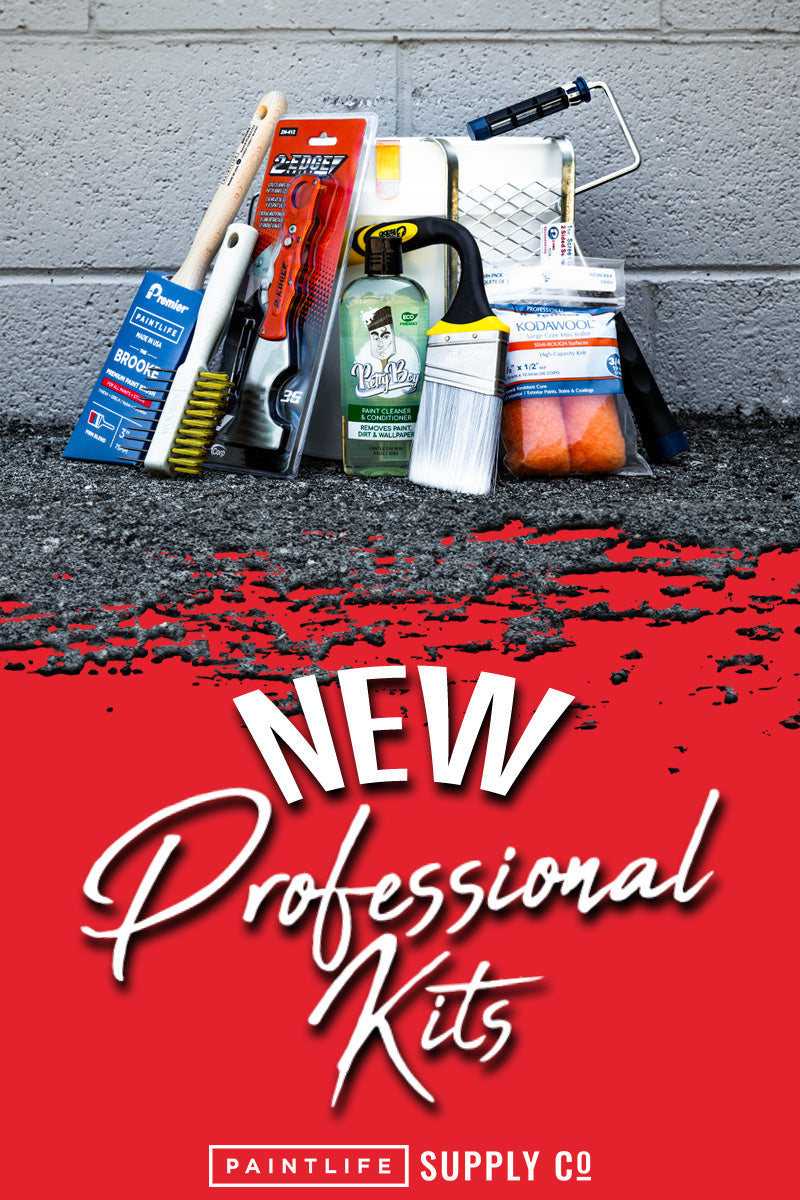 The Ultimate New Kits
Painting is a skill that requires precision, technique, and the right painting supplies. A crucial component of any painter's toolbox is high-quality gear and our
Professional kits
are equipped with premium tools that can make all the difference in obtaining the best results, whether you're a professional artist, a DIY enthusiast, or a homeowner wishing to remodel your home.
Benefits Of Using Painting Kits
Using professional kits in various painting projects offers a multitude of benefits that increase the quality of your work and streamline the process. 
Convenience and Efficiency: Professional kits provide a one-stop solution, containing all the necessary painting supplies and materials in one package. This convenience saves time and effort as you don't have to search for individual items or make multiple trips to the store. 


Expertly Curated Components: Professional kits are thoughtfully curated by experts in the industry. Each component is carefully selected for its compatibility and performance, ensuring that the tools and materials work harmoniously together to achieve the best possible outcome the best part is our kits include painting supplies that are designed and sold by fellow painters.


High-Quality Products: Starter kits typically include high-quality paints, stains, brushes, rollers, and other accessories. These premium-grade products are formulated to perform exceptionally well, providing excellent coverage, durability, and finish. Using top-notch materials ensures that your work looks polished and stands the test of time.


Cost-Effective Solution: While professional kits might have a higher upfront cost compared to purchasing individual items, they often offer cost savings in the long run. Bundling essential painting supplies and materials in one kit can be more economical than buying each component separately. Additionally, using high-quality products minimizes the need for re-application or touch-ups, saving you money in the long term.


Optimal Performance: They are designed to optimize performance and productivity. Whether it's the right type of brush for precise strokes or the ideal paint formulation for smooth application, these kits enable you to work with confidence, knowing that your tools will deliver the best possible results.


User-Friendly and Beginner-Friendly: Starter kits are designed to be user-friendly, making them suitable for both experienced painters and beginners. Clear instructions and well-designed painting tools make it easier for individuals to achieve professional-quality results without the need for extensive expertise.
Select the Right Tool for Your Paint Job
Know Your Painting Needs
Before choosing a painting tool, it's essential to assess your specific painting needs. Consider determining the type of paint you will be using, such as oil-based, acrylic, or latex. Next the surface you are painting or staining on whether it's wood or walls and lastly, your artistic style, If you focus on detailed work, you may require tools with finer tips. For expressive, bold strokes, consider tools with larger bristles or different shapes.


Balance Quality and Affordability
Budget is an important consideration when selecting a kit. It's essential to find a balance between quality and affordability. Look into its quality as in ensuring better performance, durability, and longevity. Consider the affordability and its value for money plan your budget range and explore kits within that range. Compare prices, read reviews, and consider the value you will receive from the kit in terms of the quality and included accessories.
Now that we know how starter kits are beneficial, we will delve into the world of professional kits - Paint Life Brush Kit, Fence Staining Starter Kit, Deck Staining Starter Kit, and Professional Masking Kit. Each of these kits equips you with the essential painting supplies and accessories to take your painting endeavors to the next level.
Let's dive in and uncover the wonders these kits hold.
Paint is the most versatile form of surface finish. In addition to providing limitless color and texture options, it also protects the surface. But even the most costly paint can end up looking shoddy if the wrong kind of paintbrush is utilized to apply it.
As you shop for paint brushes in the paint store, you become immediately aware of the overwhelming number of brushes from various brands and sizes. That may arise tons of questions in your mind, to name a few- What kind of paintbrush should you choose? Which brush is more suited for the job at hand?
So to clear that, let's start from the grass root level and know -
What role do Brushes play in the Painting Process?
When it comes to creating stunning artwork or achieving flawless paint finishes, the role of paintbrushes cannot be overstated. Paint brushes act as an extension of an artist's or painter's hand, allowing them to transfer their creative vision alive.
Paint brushes come in various shapes, sizes, and bristle types, each serving a specific purpose. The right brush can bring out the texture, depth, and subtleties of a painting, making it an essential tool for any artist or painter. 
Click HERE to check out 5 must-have brushes.
The beauty and value of your property can be preserved by staining and sealing your wood fence. Even if your fence is aged and coated with mildew and grey oxidation, it may be brought back to its original finish, stained, and sealed to preserve its beauty for years to come.
Our painting kit equips you with everything you need to revitalize your fence, protecting it from weather elements while adding a touch of elegance.
Why Choose a Fence Staining Starter Kit?
The benefits of Fence Staining over regular painting are numerous. Staining allow the natural beauty of the wood to shine through while providing superior protection against moisture, UV rays, and pests. Beginners and seasoned DIYers can both use a fence-staining starter kit as it offers an all-inclusive solution that simplifies the procedure.
With its key components and detailed instructions, you may safeguard your fence while achieving results that appear professional. Enjoy the beautiful effects for many years to come as you bask in the delight of finishing this endeavor.
Check out the complete guide for Fence Staining. 
The deck is more than just an extension of your home; it's an outdoor sanctuary where memories are made and relaxation is cherished. But with time, exposure to weather conditions can damage its appearance, leaving it looking faded and old. But you can give your deck new life with the correct equipment and little work. Enter the Deck Staining Starter Kit, a complete kit created to restore and safeguard your deck so that it continues to be a stunning paradise for years to come.
The Importance of Deck Staining
Decks are constantly exposed to weather, sunshine, and foot activity, which can cause the wood to fade, crack, and even decay. 
Deck staining is crucial for the long-term health and beauty of your deck; it goes beyond just cosmetic maintenance. A high-quality staining process penetrates the wood, giving it a shield of defense against moisture and UV rays, preventing decay, and increasing the life of the wood.
Learn some amazing tips for Repainting Deck HERE. 
When it comes to creating flawless and precise paintwork, a professional masking kit becomes an artist's most valuable tool, achieving sharp and clean lines is essential to complete your projects to a professional level.  A masking kit is a versatile and indispensable set that empowers painters to get unparalleled accuracy and finesse.
Why Masking Kit Is A Must Have?
It gives the power of precision, and the ability to create sharp lines and clean edges is vital to achieving a polished and professional finish. A professional masking kit provides the ultimate solution by allowing you to control and confine your paint application, leaving no room for paint bleed or smudging.
Discover Masking Tips that can do wonders!
Conclusion
Tools come in a variety that are made for various types of jobs. Before starting any project, you should think about the kinds of tools that are offered on the market. I have attempted to provide a concise overview of the various kits that might assist you in making an informed decision.
Here, Professional Kits can be your one-stop solution to avoid the hassle of buying different equipment separately and at the same time save some bucks. These kits have definitely revolutionized the way artists and DIY enthusiasts approach their projects as each kit brings unique advantages, catering to specific needs and projects.