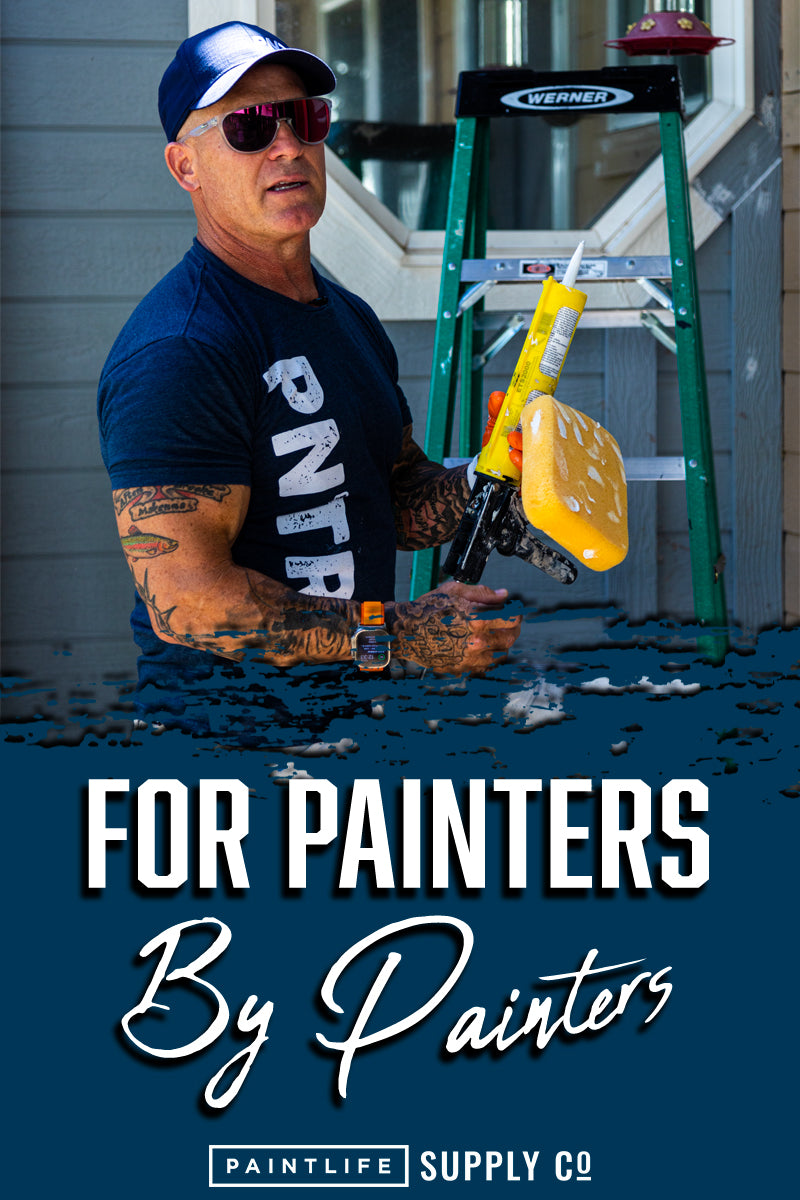 For Painters By Painters
If you have spent time on Paint Life TV, in the Paint Life Supply Co. store, or on any of The Idaho Painters' social media platforms, then you probably have seen the term we came up with called For Painters by Painters. Most of you probably know what this is all about, but if you do not, let me explain.
Paint Life is the brand created by The Idaho Painter several years ago with the dream of having a brand that stood for something important. A brand that wanted to gather painters together worldwide to help and support each other in many ways. Chris and Lisa Berry sat down one evening in their log cabin to try to come up with a phrase that clearly stated what the mission of Paint Life, Paint Life Supply Co., and Paint Life TV was all about. It dawned on us that Educate, Empower, and Equip represented our mission—a three-word phrase created and adopted by The Idaho Painter.
With the creation of the Paint Life Supply Co. store by Chris and Lisa Berry with a mission to equip painters worldwide with painting tools to make them faster and more efficient, we discovered many talented and creative painters were inventing tools to make our painting lives easier. Paint Life truly is painters worldwide coming together to better our craft. To help support those painters developing new tools, Lisa and I came up with the term For Painters by Painters.
Moreover, Painters by Painters is genuinely what it says. A painter or tradesmen inventing a tool to help us all represents this slogan and is part of Paint Life. The Idaho Painter, Paint Life TV, and Paint Life Supply Co. want to help support those painters creating these tools or products. Our mission is to help them fulfill their dreams of selling their tools or products to those who can and want to use them.
I get hundreds of tools and products sent to me every year, and not all can make the cut of being in my painting trailer, but occasionally, a product that is a true game changer comes along. We want to help support those who have solved a problem, created a tool worth going to the trailer for, and are painters with a passion for our trade. For Painters by Painters are tools and products in Paint Life Supply Co. that have passed the test and are worth the purchase.
As a painter, the undeniable thrill of resolving issues and producing stunning works on varied surfaces cannot be denied. But it is even more rewarding to see other artists stand up to the plate, invent, and create tools that completely change how we work. Helping Painters near me is more than just an idea; it's a potent, locally driven movement that promotes cooperation, support, and tradesmanship excellence.
The world of painting is broad and diverse, and talented painters near me always look for solutions to daily problems. Painters find inspiration in their daily job and put their ideas into practice, demonstrating that creativity is alive and well. Each tool, from minor adjustments to ground-breaking creations, reflects the creativity and inventiveness of artists dedicated to improving their profession's art and science.
A Painter's Treasure Trove That Can Transform The Trade
Quality Assurance
These painting tools are designed and produced by painters who enjoy their work and are dedicated to providing top-notch quality. Every piece in the collection is made with the highest care and accuracy, thanks to their commitment to perfection. You can buy confidently, knowing you're getting the most incredible products on the market that will last a lifetime.
Expert Insight and Understanding
Who knows the needs of painters better than fellow painters themselves? 
This collection results from first-hand knowledge and an in-depth comprehension of the difficulties and demands that painters encounter daily. By selecting these items, you have access to the wisdom and insight of famous painters, ensuring that you have the right tools for the job.
Innovative Solutions
Each item is a creative response to problems encountered frequently when painting. These tools are made to increase your productivity and raise the standard of your work, from time-saving painting supplies to ergonomic designs that lessen strain. Adding these cutting-edge solutions to your toolbox can completely alter how you approach painting projects.
Empowering The Community
You are directly supporting the painting community. You help the industry's cycle of support and encouragement by purchasing equipment made by other famous painters. Your assistance supports a vibrant local community, and this collection represents the spirit of cooperation and togetherness among painters.
Supporting The Vision
 Behind every item in the "For Painters, By Painters" collection lies a passionate vision. The painters who conceptualize and create these tools are driven by a desire to make a difference in the industry they love. Their passion shines through in every detail, making the products not just tools but also a testament to the dedication and creativity of painters.
Personal Touch
Sometimes, the individual touch and meticulous attention to detail we want are missing from commercially mass-produced supplies. However, the "For Painters, By Painters" series provides a more individualized and close-knit experience. Each item bears its maker's signature, making it a special and significant addition to your toolkit.
Durability And Longevity
As painters, we appreciate the value of dependable, long-lasting equipment. These game-changing tools are made to go above and beyond expectations, whether in terms of withstanding extended periods of use, challenging environments, or sustaining constant performance. With these resources, taking on any painting project will be simple and confident.
A Commitment
We are enhancing our art and demonstrating the value of helping one another in the trades by purchasing tools from famous painters. Investing in this cutting-edge equipment reminds us that our neighborhood values and promotes innovation, resourcefulness, and creativity.
Bottom-line
Unfortunately, there are a lot of products in the paint stores and big box hardware stores that are gimmicks and a waste of your hard-earned money. As many of us know, they simply want your money. The Idaho Painter is trying to sort through those unworthy tools, so you do not waste your money. Check out For Painters by Painters on Paint Life Supply Co. to see a list of the product that has cut. If you have a product you would like us to test, just get a hold of us cause we would like to see what you have created.
The world of painting serves as both a platform for creative expression and a hub for new ideas. We are more than just artists when we paint; we are creators, thinkers, and forerunners. We push the painting industry to new heights and motivate upcoming generations of painters with our persistent search for improved tools and methods.
Take a moment to recognize the collaborative and supportive nature of the painting community the next time you grab a tool that simplifies your job or come across a new creation by a fellow painter. Together, we are a force to be feared—a force that paints walls and a more promising and forward-thinking future for the painting industry.