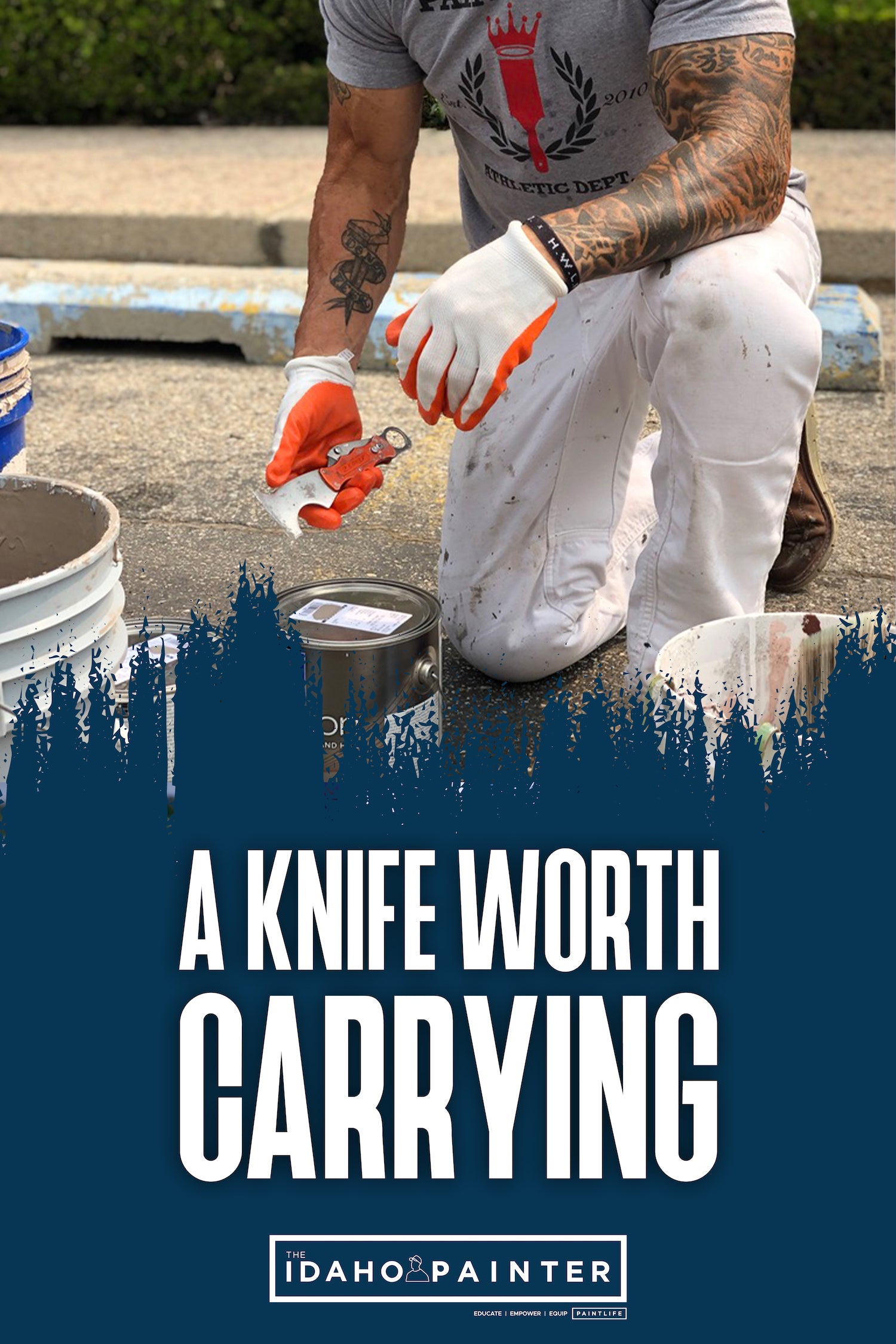 A Knife Worth Carrying
Every now and then a tool comes along made for a painter by a painter that is a must have.  I wish I could say it happens all the time but it is rare.  I want to introduce Steve Enguita, a painter out of Florida who is the mastermind behind this essential tool. The 2 Edge Knife combines a utility knife and a 5-in-1 tool to make one heck of a versatile painters tool. Two tools we utilize on every job site. 
Creating a tool that solves a problem while maintaining high quality is not easy, yet this tool checks both of these off. At first touch you know this is well built. The blade quickly and easily comes out to change or reverse with a push of a button.  It uses standard utility blades that you can buy almost anywhere. The blade retracts simply and easily with your thumb where it rests inside the handle of the 5-in-1 tool. The 5-in-1 end is ground and polished just right.  I have never lost a 2-Edge knife for several reasons.
In my career I probably have lost at least 500 5-in-1 tools for a few simple reasons.  They were too light and easily drug out of my pocket when working around plants. The tools' colors were dark and not easily seen if it fell in a bush.  We are constantly working around bushes doing exterior repaints so I was constantly losing the small tool.  I would buy a cheap Allway 5-in-1 cause I was tired of losing expensive Hyde versions. The 2-Edge knife solved my problems by making the color bright orange. The color has always been easily seen and discovered if it was ever dislodged from my painter's pants without my knowledge. The weight also played a major role in me not losing a 2-Edge knife.
The weight of the handle portion of the tool is heavier but perfectly balanced. The heavier handle makes it much more difficult for a bush to drag it out of your pocket without you knowing.  The weight makes it fall easily into your side pocket without getting hung up and falling out. Rubber handled 5-in-1 tools make it more difficult to get in and out of painters pants side pockets. The 2-Edge knife has a belt clip that is pretty cool if you want to keep it in a front pocket or clip to the outside. Not a feature I have ever used but I am sure some would love it.  
The 2-Edge Knife is made with precision and made of high quality materials that should last your entire career. If you have never tried this tool it is one of my top 5 painters tools I would highly recommend.  We at Paint Life Supply Co. love supporting fellow painters who have created tools to make our job faster and more efficient so you can now buy Steve's creation right in the Paint Life Store. I love a quality tool and you are going to love the 2-Edge Knife.
You can view more information about the 2-Edge tool here: https://paintlifesupply.com/products/2-edge-tool?_pos=1&_sid=0729ed303&_ss=r