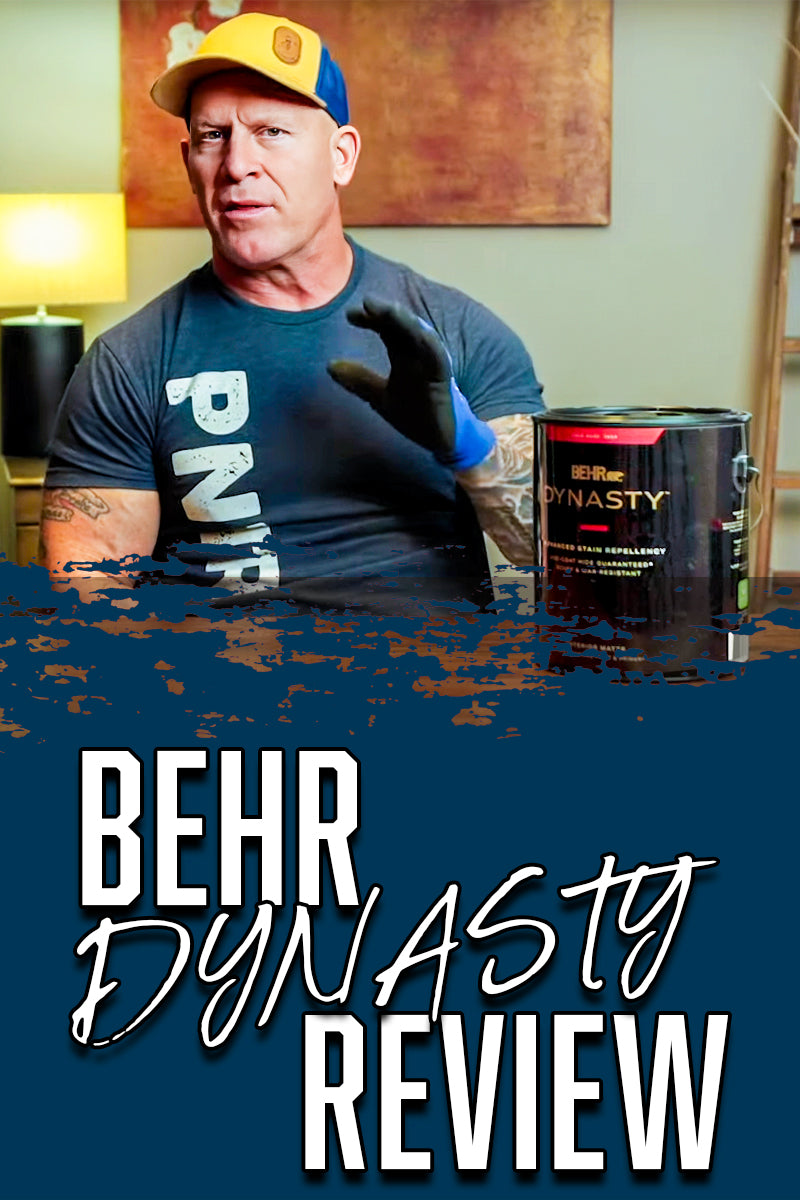 BEHR DYNASTY® Interior Paint Review
Tired of going back over your projects with a second coat as soon as you're done? BEHR DYNASTY® Interior Paint offers a solution. Claiming to be a one coat hide in select colors, scuff and mar resistant paint-and-primer-in-1, BEHR's top of the line paint has garnered rave reviews from lots of professional painters. Does it do what it claims it does, and should you use it for DIY or professional painting? To give you an informed opinion, we picked some up ourselves to put to the test on a bedroom so that you don't have to.
The color we chose is a dark grey-blue with a matte finish called "City Rain." Colors as dark as this should not cover easily. However, it would cover stains more easily, but on the can it does specify that heavy stains can bleed through and may require a second coat to fully cover up. To begin our test, we recommend this step. No matter what paint or colors you're using, always box your separate cans into a single, larger bucket to ensure you don't end up with any inconsistencies in your color. From our testing, BEHR DYNASTY® Interior Paint in a matte finish is also a very fast drying paint, so to keep the paint in the bucket from skimming or drying out while I painted the room, I covered the top of the bucket with a Brush Beanie and set it aside.
One nice thing about BEHR DYNASTY® Interior Paint that sets it apart from the others is that the cans are plastic. This means you won't ever have to deal with rust at the top, which is common in metal cans. The lids also feature tops that screw off, so you don't need to pry the entire lid off. The product also comes with a pour spout that can be fitted to the opening after unscrewing the lid. This makes it easy to pour without making a mess and dripping paint down the can.
No matter what color I'm painting with, I always do my cut-ins between the first and second coats - never have I seen or used a paint that was actually a one coat hide. After testing a small amount of the BEHR DYNASTY® Interior Paint on the wall, I determined that this may actually be a one coat paint after all, which changes my process. Instead of doing cut-ins between coats, I'm doing cut- ins first and then rolling out the wall. Since I'm a one man show, I'll be doing one wall at a time - both cut-ins and rolling - to keep up with my paint before it dries. With a one coat hide paint, you always want to keep your roller nice and loaded.
I could tell after starting that the product has super high solids paired with quite a thin viscosity. This is great for cut-ins as long as you're using the right brush, which shouldn't be too stiff but it also shouldn't be too soft. The Paint Life Brooke Paint Brush provides a good medium that worked well for me and didn't leave any brush marks behind. It allowed me to draw a really nice line too, which is usually pretty hard to do with this color. I was worried with the thin viscosity that my cut-ins might run, particularly since I put it on nice and wet to ensure it was covered in one coat, but they hung exceptionally well and there was never an issue. The paint displayed an excellent wet hide.
If you notice the paint beginning to dry, you'll want to roll out the wall. Letting your paint dry separately will give you lap marks and haloing. After finishing my first wall, I was pleasantly surprised; with no visible haloing, I had ended up with a nearly perfect looking wall, and with a quite difficult color to use at that. The sheen looked amazing and hid almost all the imperfections in the wall.
After two days of using BEHR DYNASTY® Interior Paint, I was very surprised and impressed with the coverage and finish of the paint. Despite worrying me with high solids and a thin viscosity, it hung extremely well even when I laid it on extremely wet. There was only a little bit of splatter, and there was some odor, but that's because of the drying chemicals in the product. At about 70 degrees Fahrenheit, the paint had a dry time of around an hour just as the can said it would. A fast-drying time like this is great for professional painters, allowing you to get in and out quickly while not being too fast to keep up with on your own. If the room you're painting is a bathroom or has mildew problems, BEHR DYNASTY® Interior Paint is also an antimicrobial mildew resistant product and will work well under those conditions.
I used a testing board to compare how the paint looked when applied with a brush, roller, and by daubing, and the color maintained a consistent look between each. I also used this board to test the paint's resistance to scuffs and marring and was able to wipe any marks away with a microfiber cloth. I'm unsure of the exact rating so I can't say how much marring is beyond the product's ability to resist, but with light scuffing from a shoe or scraping from a small piece of metal, a microfiber cloth will clean it right up.
I've come across a lot of products that claim to be a one coat paint in my career, but none of them have ever truly been that. Because of this, I had my doubts, but after painting an entire bedroom with it I have to say it truly is a one coat paint. It performs and acts just as advertised and manages to provide exceptional coverage in a single coat without leaving behind any brush marks, lap marks, or haloing. BEHR DYNASTY® Interior Paint is one of the best interior paints I've ever used, and I would highly recommend this product for both DIY and professional painters.